---
Raku Message Box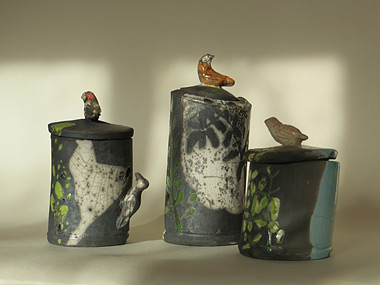 As a child, one of my favourite play was taking out various Japanese folk art model animals and dolls in a special glass case to look at them. They were mostly collected by my parents or gift from relatives and friends. What I really enjoyed was every time when I turned them around or re-arrange siting, it seemed they gave me something to discover. I was particularly fascinated by two slim Kokeshi dolls. They were hand turned wooden dolls and painted with very simple colours. Those traditional art and craft work were from Fukushima prefecture where my parents and also I and my brother were born. A very reason I had attachment with those Kokishi was they had special compartment inside. The base of the dolls could be open like screw lid and there were small hollow space which could slip a scrolled letter to hide.
The idea of keeping secret letter was very exciting for a little girl. Later on when I started making Raku pottery work, this Kokeshi dolls became my source of inspiration. Each message box has got Kimono pattern like design and an animal or bird sit on a lid with subtle sense of humour like Netsuke.
When I look at those finished Message Boxes, sometimes they give me a smile as if I came across the charm of Kokeshi doll again.